Motorola Moto G Pure factory reset is a process that restores software and system settings to factory defaults. This will delete all your data, settings, passwords, and apps and clear your storage. You should back up your data before proceeding with a Motorola Moto G Pure hard reset.
About Motorola Moto G Pure Factory Reset
Motorola Moto G pure factory reset or hard Reset is usually used to repair a damaged or malfunctioning device, bypass or remove the device's screen lock pattern/PIN/password, fix software-related issues, software lag or slowdown, etc. It is used. It also deletes all personal data and system settings when you sell your phone or tablet.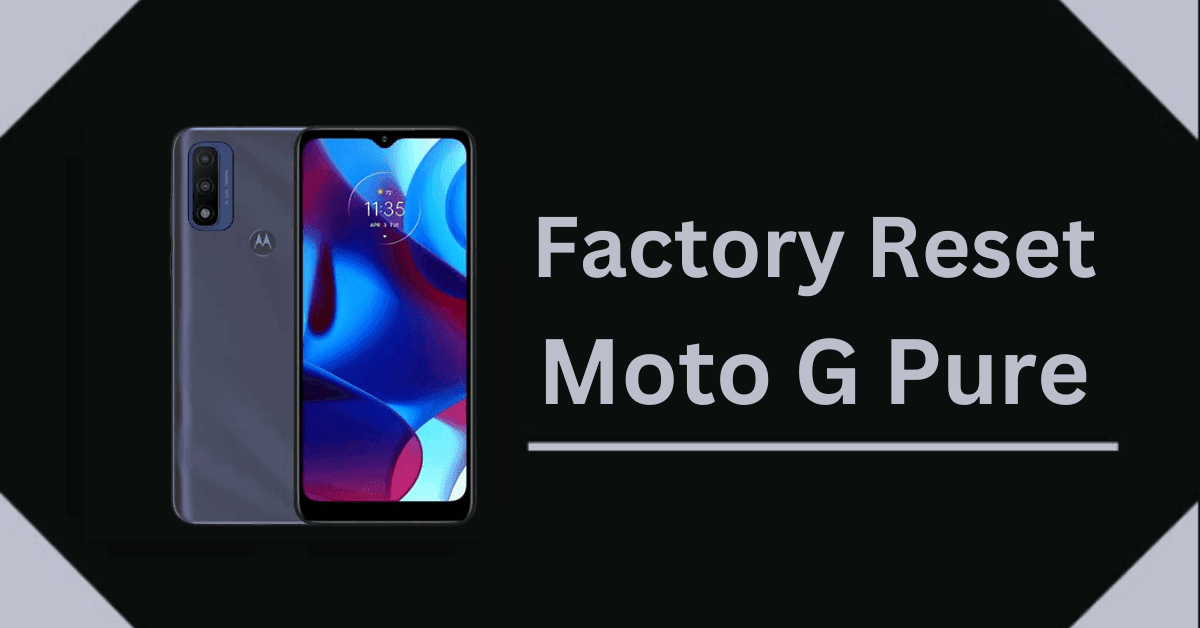 Why do I need to Factory Reset the Moto G Pure?
If your Motorola G Pure runs very slow or freezes, you want to bypass the screen lock, the memory is full, and you want to erase everything, you want to sell it or give it to someone else, and you want to make sure that no one can access your files and passwords. If you deleted it, you can do a factory reset to restore it to its original state, like on day one.
Please note: Resetting or factory resetting your phone will delete all of your data, so be sure to back up your data to avoid losing everything.
Here is how to Factory Reset a Motorola Moto G Pure
If you can't unlock your device, it either doesn't belong to you, or you've forgotten your password. In this case, you can perform an external reset. To use this method, your phone must be charged at least 30%.
Shut down your Motorola Moto G Pure.
Press and hold the Power and Volume Down buttons simultaneously with your phone completely powered off. Your Moto phone will turn on & display a screen that says AP Fastboot Flash Mode.
A small text bubble next to the physical volume button will say 'START'. Press the volume button down to navigate this menu on the side. If there is a Recovery Mode, then press the Power button to select it and restart in Recovery Mode.
In recovery mode, navigate to Wipe Data/Factory Reset in the volume buttons. Press the power button, then select the option.
Use the volume buttons within Wipe Data/Factory Reset to navigate to the Factory Data Reset option. To select this option, press the power button. The Reset will be completed in a few seconds.
You can use volume buttons to navigate the 'Reboot System Now option'. To select this option, press the power button.
How to Hard Reset Motorola Moto G Pure?
Step 1. Turn off your Motorola Moto G Pure by pressing the power button.
Step 2. Here, we use the Volume down button and the power key together.
Step 3. When bootloader mode appears on the screen, release all your buttons.
Step 4. Use the volume rocker to navigate and the power key to select the recovery mode location.
Step 5. When the Android robot image appears, click the Volume Up and Power keys once.
Step 6. Here, select Wipe data. Use the same buttons as before.
Step 7. Now select Reboot system using the power button.
Note: After a Motorola Moto G Pure Hard Reset, you may be asked to enter the Google Account details you previously used to set up your device. This is a security feature that Google added, starting with Android 5.0 Lollipop.
How to soft reset your Motorola Moto G Pure?
Motorola Moto G Pure Soft Reset is commonly known as reboot or restart. This operation does not include loss of data and settings. It is usually done to fix device slowdown or slow operation, software errors, memory errors, operating system errors, app errors, etc.
A soft reset clears RAM and temporary cache and quickly improves device performance. Sometimes, data stored in RAM and temporary cache may become corrupted. This results in app errors, OS errors, phone freezes, and other software-related issues. So, a soft reset will fix most software issues on your phone.
To perform a smooth reset operation, press and hold the power button, select Restart or Power Off option, wait 20-30 seconds and power on the device again.
For smartphones with removable batteries, you can perform a soft reset by removing the battery and reinserting it after a few seconds.
If the device freezes for non-removable batteries, you can use the power button and key combination to power off the device. For example, Volume up + power, Volume down + power, Volume up + Volume down + power, etc.
What happens if you factory reset your Motorola Moto G Pure?
As previously mentioned, you'll want to be doubly sure that factory resetting your phone is something you want to do.
Factory resetting your Motorola Moto G Pure will delete all data and restore your device to its state when you purchased it. Your Google account and all media, app settings, data, and downloads will be permanently deleted from your device.
Conclusion
You must repeat the steps if resetting doesn't work with your Motorola G Pure. Some new Android versions require you to connect the USB Type C cable to your laptop or PC. Otherwise, the Reset using buttons feature will not work. Holding the button until you see the change would be best.