System failures and hard drive issues are a common occurrence in Windows, affecting computer users on a daily basis. Whether it's a minor glitch or a catastrophic failure, many individuals have encountered such problems.
To avoid the inconvenience and potential loss of data associated with these issues, the most effective solution is to proactively create a backup of both the system and critical data in the form of an image file. This way, in the event of data loss or an unexpected system crash, the backed-up image file can be utilized to restore the system and data to its previous state.
Additionally, if you're planning to upgrade your Windows computer to a newer operating system like Windows 10 or 11, you might have concerns about safeguarding your important data throughout the upgrade process. In such cases, it is advisable to consider creating a backup of your computer as a precautionary measure.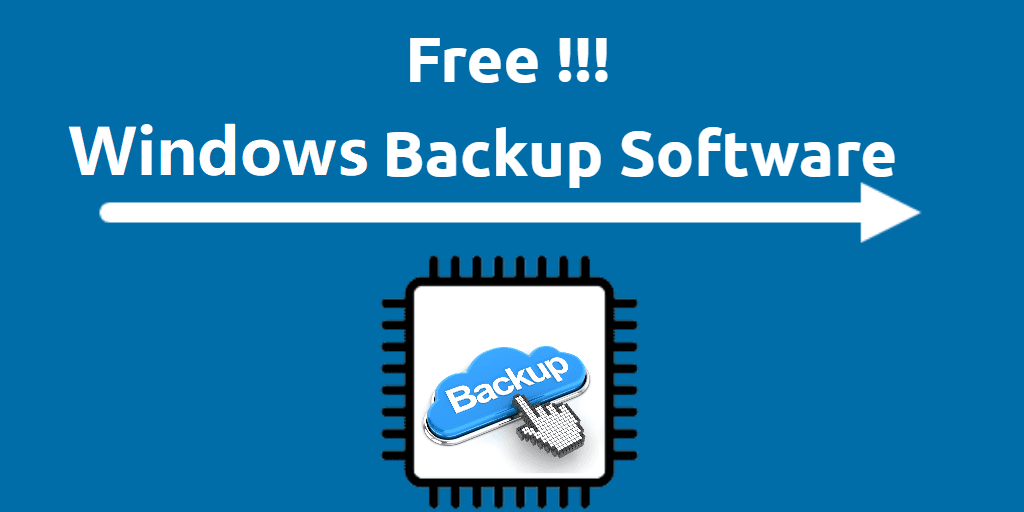 So how to choose Windows backup software? Next, I will recommend you a best free backup software. Please continue reading to get the complete guide.
Best Free Windows Backup Software for Windows Computer
Choosing the right backup software is crucial for effectively backing up Windows. Among the top free backup software options available, AOMEI Backupper Standard stands out as a highly recommended choice for all users. Here are some key reasons:
It provides four backup types: system backup, disk backup, partition backup, and file backup. This versatility allows you to meet your specific Windows backup requirements, whether you need to back up the entire computer or only selected files.
It allows you to configure custom scheduled tasks for Windows automatic backup, catering to your specific needs. You can choose the frequency of backups, such as daily, weekly, monthly, event triggers or USB plug in ensuring regular and automated data protection.
The software offers flexibility in storing backup files. You can save them on your local hard drive, external hard drives, USB flash drives, network storage, and other compatible destinations. Moreover, AOMEI Backupper features a user-friendly interface that simplifies the backup process. With just a few clicks, you can effortlessly complete your backup tasks. To demonstrate the detailed steps for backing up Windows, we will guide you through the process using this powerful backup freeware. Download AOMEI Backupper Standard and proceed with confidence.
How to Backup Windows System via Best Free Software
In this part, I will use a system backup example to show you how to use this software to back up your Windows.
Step 1. Simply launch the software. Then, proceed by clicking on the Backup option and select System Backup for creating a backup of your system. 
►Tip: Alternatively, if you wish to back up a disk, partition, or specific files, click on the respective button that corresponds to your desired backup type.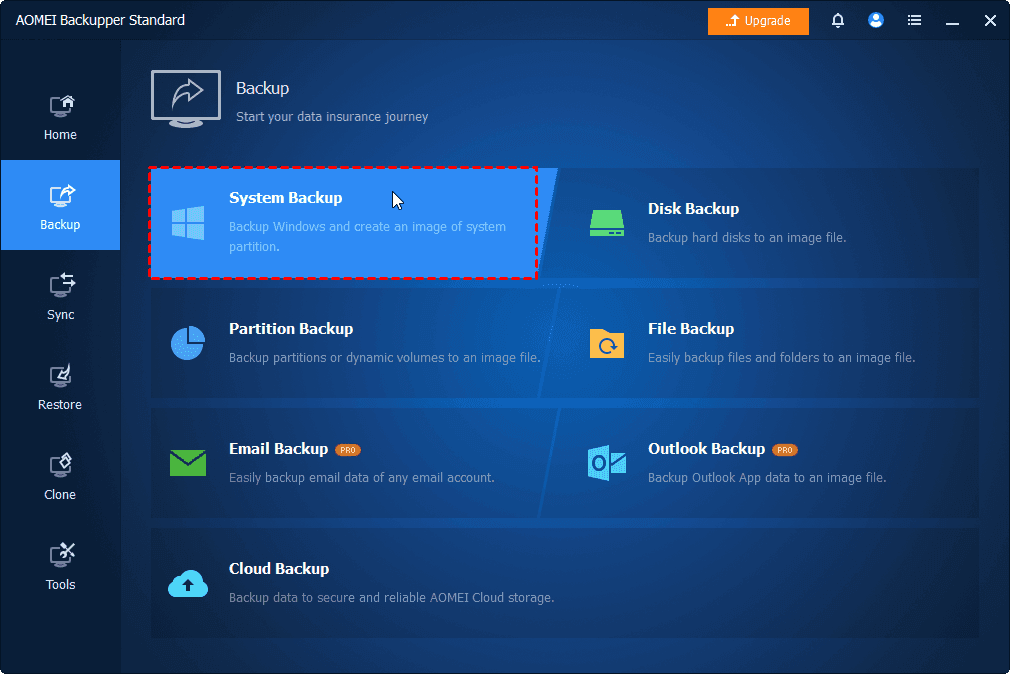 Step 2. AOMEI Backupper automatically selects the system and boot drives as the source partitions. Your task is simply to choose the destination path where you want the backup to be saved.
Step 3. After reviewing your backup settings, simply confirm the operation and click on the Start Backup button to initiate the backup process.
❧Some useful features: 
Options

: By clicking on this feature, you can add comments for the system backup, enable email notifications, adjust the compression level, and encrypt the backup for added security.

Schedule Backup

: Utilize this function to create your personalized scheduled backup, aligning with your specific requirements.

Backup Scheme

: This incredible feature, available in AOMEI Backupper Professional, allows you to establish rules that automatically delete older backups, ensuring sufficient space on your backup location.

When the need arises to restore your system, simply navigate to the

Home

section, locate the specific backup task, click on additional options, and select the

Restore

option to initiate the restoration process.
Summary
As demonstrated, creating a system backup with AOMEI Backupper Standard, the finest free backup software for Windows, is incredibly simple. It provides a user-friendly system backup feature that caters to all Windows operating systems, including Windows 11, 10, 8.1, 8, 7, XP, Vista, and server systems.
In addition to its backup capabilities, this freeware also offers disk/partition cloning, enabling you to effortlessly transfer everything to a new computer when upgrading.
Undoubtedly, this free backup software is an indispensable tool. Don't hesitate to take action now to avoid future regrets in the event of data loss or system crashes. Download this freeware immediately to secure your data and system, granting you peace of mind. Alternatively, you have the option to upgrade to the Pro version, unlocking additional features for an enhanced experience.